Story Time at the library is coming soon!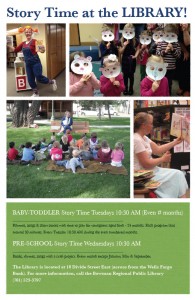 Pre-School Story Time will be Wednesday at 10:30 AM. This program runs all through the year with the exception begin the months of January, May and September. Books, rhymes and songs with a craft project.
Baby-Toddler Story Time will begin on Tuesdays 10:30 AM. This program will run on the even numbered months (February, April, June, August, October and December). Rhymes, songs and short stories with time to play for youngsters age birth to 24 months. Each programs lasts about 30 minutes.
Call the library for more information!